Lead Pastor – Amanda Rohrer
I am a follower of Jesus! If there is one thing that defines me, it is the love Jesus has for me. But I am also a wife, mother, and pastor—in that order. Raising teenagers has taught me a lot about the need for community and the key elements needed for life transformation. I am grateful for all that Hannah, Isaiah, and Avery have taught me.
My biggest passion is the local church. To see her experience freedom and purpose so that the world may know that the Kingdom of God is here! My biggest advocate in this audacious endeavor is the man I have been in love with for 17 years. By far, Doug has been the one who has taught me that transparency, authenticity and vulnerability are possible when the love of Christ is present in relationships. To him I am forever grateful.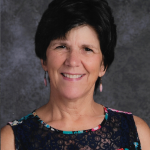 Carol Hershey
Carol Hershey has been a member of Gingrich Mennonite Church since 1984. During these years, she has led the Worship Music Team, planned church retreats, helped with children's Sunday School, Vacation Bible School, and has served in many other capacities large and small.  The Gingrich's community has been a source of incredible and prayerful support to Carol and her husband, Jay, during seasons of grief and has faithfully walked with her into an ever-deepening relationship and trust with Jesus. To her role as an elder, she brings her gifts of administration, ability to speak the truth in love, and a heart that continues to be shaped by the Spirit of Christ in prayer and silence.
Her heart desires to know God better. The prayer of St. Augustine sums it up: Father, you are full of compassion, I commit and commend myself unto you, in whom I am, and live, and know. Be the goal of my pilgrimage, and my Rest by the way. Let my soul take refuge from the crowding turmoil of worldly thoughts beneath the shadow of your wings; let my heart, this sea of restless waves, find peace in you, O God.
Amen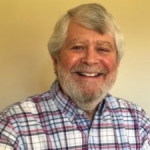 Myron Miller
Myron Miller is a rural family practice physician. He spent several years doing medical mission work in Zambia and Honduras. He enjoys reading and being out in the beauty of God's creation.
Myron grew up in Indiana, the son of a Mennonite pastor. He went to Goshen College and then the University of Illinois for medical school. Myron is also a trained spiritual director. He has
authored two books, Think on These Things, a year-long devotional book, and Good Grief, a book about the journey of grieving.
Myron and Doreen have been married for over forty years. They have four married daughters and eight grandchildren. One of his favorite areas of ministry is teaching adult Sunday school classes.
"Truly, truly, I say to you, unless a grain of wheat falls into the earth and dies, it remains alone; but if it dies, it bears much fruit."
– John 12:24